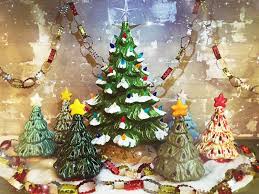 Book It
Pre-order Vintage Christmas Tree with Lights & Light Kit
Pre- Order your ceramic tree for the holiday season. This year we have so many from the Vintage Light Up to the Dancing Tree. Because of the size of the trees, the studio free will be $10. You will be able to chose between two specialty glaze as well as all the other colors we have at Clay Cup.
This project can be an in studio project or you can take with you as a kit to bring home and bring back. This is a wonderful project for families at thanksgiving, just a thought. The take home kit comes with everything you need including paints and brushes. Then you just have to bring back to the studio to be fired :) Keep a look out for our take home Christmas ornament kit too.
Description of Trees:
11H by 5.5W Vintage Small Tree with Light and Light Kit are $35 - $20 deposit at check out
13H by 8.5W Vintage Medium Tree with Lights and Light Kit are $59 - $30 deposit at check out
18H by 11W Vintage Large Tree with Lights and Light Kit are $75 - $40 deposit at check out
13 1/4H Dancing Tree with Lights and Light Kits are $45 - $20 deposit at check out
10W by 7H Triple Tree Votive with Lights are $30 - $10 deposit at check out
11 3/4 by 8.5 Dr.Sues Jolly Tree are $25 - $10 deposit at check out
Blue Light Kit $5 (You will still be able to take home the colored lights that tree comes with. This is if you would like to have blue lights to change the theme of your tree)
Pre- Order is through October 31st. This is to make sure we can get your trees ordered before the Christmas rush. Once the trees are in the studio we will send out emails, letting everyone know. You will have until December 15th to paint and guarantee your tree is ready for Christmas. If you have any questions regarding this, just send us an email and we would be more than happy to help.