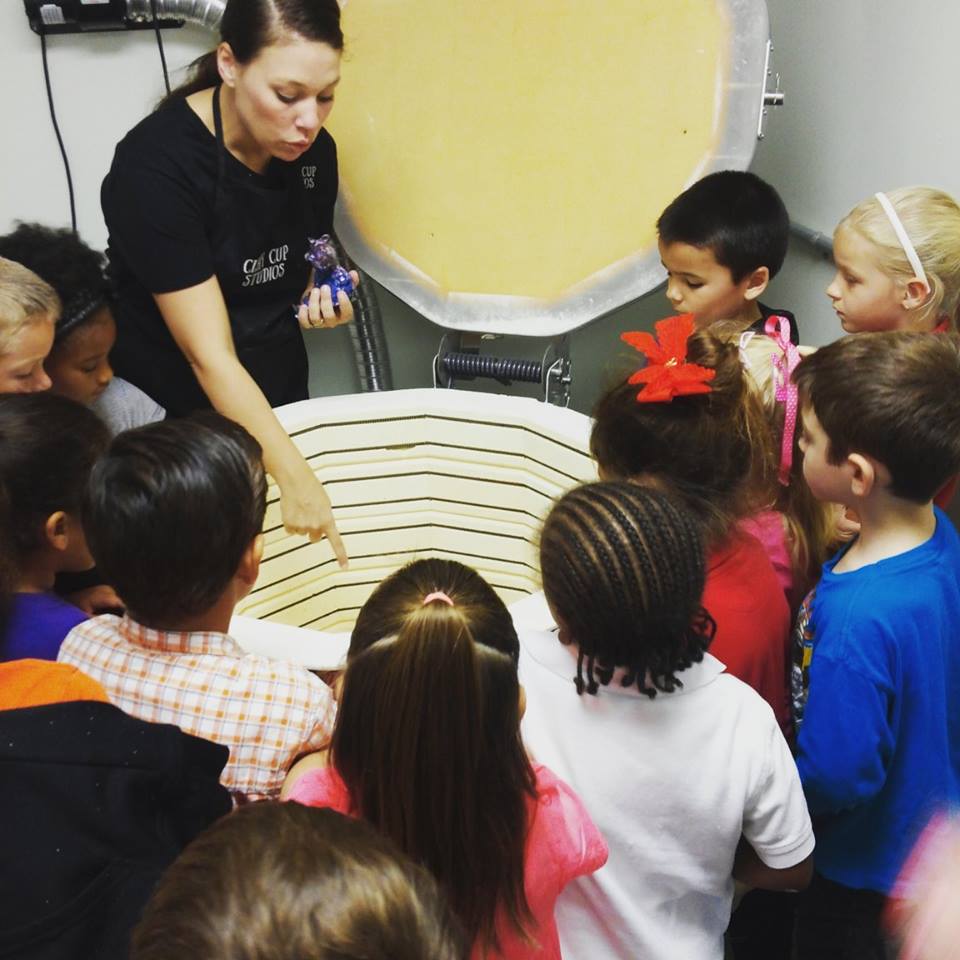 Amy Owens is the owner of Clay Cup Studios. She has a passion for her family and her community. Coming from a family heavily involved in the arts, she saw a need in Galveston for a destination that families and friends could go to relax, have fun and get creative. She makes it a point to use Clay Cup for education and community outreach.
Mary Ruth is simply an amazing artist. Having studied Studio Art at the University of Texas she is well versed in several art mediums. You will not find her on day to day activity at the studio but you will be able to sign up for one of her many courses. Courses include everything from clay to painting. You can also hire her for custom art pieces as well as mural painting. Mary is my go to gal everything art. If I have a question, she has an answer. She's like my art therapist lol. I also rope her into helping with various community projects like the Turtles and the Pool Mural.
You will likely see Angelica hanging out at the studio to help you paint your project and book your parties. She loves to brew beer in her spare time and man let me tell you... its yummy! Not only that but she is a dear friend and my favorite in house goofball. You never know what trouble we find ourselves in. Just ask our husbands, they'll tell you a decade of funny stories.
We love Therin ! She has become a wonderful addition to Clay Cup Studios. Therin is our in house canvas instructor and she is a rock star. Have an idea??? no problem Therin can take your idea and create an awesome one of a kind canvas workshop just for you. Not only that but she is a kind heart and we are so lucky to have her as part of our little family.
Cristal is one of our guest artists at Clay Cup. She spends a lot of her time working at the Galveston Art Center and volunteering through out the community. At the studio will see her teaching silk or clay painting and other various workshops.
Although Gabriel is not an employee here at Clay Cup. We still consider him family. Clay Cup Studios often partners with Gabe while doing community outreach. Known as the go to guy for large murals on and off the island, you can view Gabes work at 22nd and postoffice, 22nd and strand and the Miguire Dent Community Center. His latest works with Clay Cup Studios can be found at the new community pool!
Donald is a local Galveston glass artist that hangs out with Clay Cup during Artwalk. Being a husband and a father, community is important to him. You can often find that he gives back to various organizations and non profits in the community. Another fun thing is he will often hide his work in secret spots around the island for people to find. Make sure to stop by at Artwalk to see live demos and to buy a custom piece.
Community Projects & Fundraisers
Clay Cup Studios has been blessed and honored to take park in so many fundraisers and community outreach projects. Different ways we have and can help with future projects.
* You can host an event at Clay Cup Studios. 20% goes to your cause. You get people there and we will do the rest.
* Ask for one of our Public Art canvases. We just give this to you and you can auction it off. 100% of the proceeds are yours.
* Use our space. If space is available we would like to be able to donate our space for your use. Create or gather supplies for whatever community project you have going on. Our space is your space.
*Once a month we will give out gift certificates to local churches, schools and non profits for silent auction. If you have one coming up awesome, just make sure to let us know in advance.
* Through out the year Clay Cup Studios itself will host various workshops that raise money for community art and other organizations. It is with these funds we are able to offer free fieldtrips to the studio, mobile field trips to classrooms and money that impacts our wildlife. Make sure to keep an eye out for these events. Look for events like Adopt a Sea turtle Day where over 120 people enjoyed painting Sea turtles knowing that part of the proceeds went to Turtle Island. Or Splatter Paint at Artwalk where the proceeds funded a local day school coming to the studio to paint.
We loved being able to donate our time to create this awesome donor wall for the new community pool! Mary Ruth worked round the clock to create custom ceramic fish, Gabriel painted an amazing backdrop, Amy created custom glass pieces and in the end our Clay Cup team along with Christina Ebert, Sabrina Stachowski and Clark Duhon pulled this fun and unique mural together. If you are looking for something similar, just reach out. We love our community!
During Artwalk you can often find a large blank canvas in front of the studio. We call it public art. These large canvases are not only fun to participate in but we donate them to organizations like Shriners, Ronald McDonald House and United Way to be auctioned off. All proceeds go to the Charity that is Auctioning the painting. If you are with an organization and are trying to raise money, let us know and we will get you one of these fun canvases.
Clay Cup Studios is the perfect place to gather. That being said we love to have local groups and clubs like this group of students from UTMB making blankets for a local children's hospital.
Ball High School was picking up these cool food truck backdrops for their fundraiser. With the help of Erin Tobberman and the Galveston Kindness Project,they were able to have cute back drops. Love our Ball High School kids.
Groups we are honored to have had groups in the studio ranging from Relay for Life to small student clubs. I can not stress this enough. Clay Cup is here to help you. Give Amy a call and lets get a plan together that will not only be fun but that will impact the lives of our community.
Small Business in Galveston
It is no secret that Galveston prides itself on supporting local business, just as Galveston's small businesses are notorious for supporting their community. It is a wonderful synergy that Galveston has.
Fun facts about small business:
Fact 1
Small Businesses donate 250% more than larger businesses to non-profits and community causes. (Source: Seattle Good Business Network.)
Fact 2
If you spend $100 at a local business, roughly $68 stays in your local economy. (Source: Civic Economics Study.)
Fact 3
Choosing a locally owned store generates 4 times as much economic growth than shopping chains. (Source: Civic Economics Study.)
Fact 4
Small businesses in America generate 54% of all jobs.
Fact 5
Shopping small business create a ripple effect in the community. Once those dollars are spent at one local business it turns around and spends money at other local businesses and so on and so on.